When writing the IAS Mains exam, it is difficult to control both your speed and handwriting simultaneously. Read more for detailed info.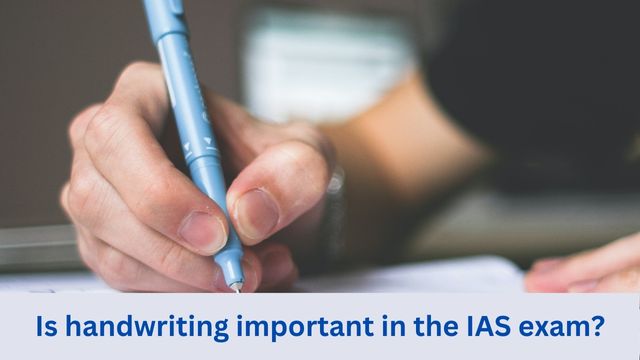 Focusing too much on good handwriting during the exam will likely result in incomplete answers. However, it is important to note that handwriting is developed over time, from childhood to college, and most graduates have already managed to live with their existing handwriting.
If others have been able to tolerate your handwriting in school and college, then UPSC evaluators can likely do the same. However, if your handwriting is exceptionally poor, it could confuse the evaluator. In such cases, it may be helpful to spend 15 to 20 minutes a day for several months to improve your handwriting.
Aside from extreme cases, good or very good handwriting will not earn you extra points. As long as the evaluator can read your answers without irritation, you should focus on the content rather than the presentation.
Do you need proof ? Look at the answer booklets of previous year's toppers that are available online. You will be surprised to see how poor the handwriting of some toppers is. I believe that handwriting is overemphasized in relation to the UPSC mains exam. So, let go of this notion. Your handwriting only needs to be readable.
Read More : How to become ias officer after 12th ?
IAS Books recommendations and preparation guidance for IAS
Numerous books are available in the market to aid in the preparation of the IAS exam. Aspirants have the freedom to select from a variety of books. However, we suggest opting for comprehensive books that specialize in specific subjects. Choosing a book that covers all subjects could restrict IAS preparation. The following are some recommended books to excel in the IAS exam:
IAS Books recommendations
IAS Preparation guidance :
Read newspapers and articles daily
Read newspapers and magazines regularly
Maintain your concentration on studying
Create a robust and intelligent study schedule
Review the previous year's exam papers
IAS Previous year question papers :
Utilizing previous year's question papers is a highly effective method for cracking any competitive exam. These papers allow you to review the paper's pattern, question types, and even the possibility of a repeated question. Thus, utilizing previous year's question papers and model papers aids in exam preparation.
For those preparing for the IAS exam, it is a recommended strategy to practice using previous year IAS question papers and model papers. Doing so helps candidates become familiar with the types of questions asked in the IAS exam and the essential areas of the subject matter. Moreover, IAS previous year question papers aid in evaluating one's performance, identifying shortcomings, and working towards improving them.
Salary of IAS Officer :
In addition to their base salary, an IAS officer is eligible for a range of supplementary allowances and benefits. While a junior IAS officer earns a monthly salary of INR 56100, a senior IAS officer, such as the Cabinet Secretary, can earn up to 2.5 lakh per month. Alongside their salary, the government provides all IAS officers with various allowances and benefits, which are outlined below :
Discount on Govt. services
Transportation allowance
House rent allowance
Dearness Allowance (DA)
Can diploma holders apply for IAS ?
Candidates possessing a diploma are ineligible to apply for the IAS exam as it is a graduate-level examination, and a diploma is considered equivalent to a 12th standard qualification.
Therefore, candidates with a diploma must obtain a graduate degree to meet the eligibility criteria for the IAS exam.